About Paul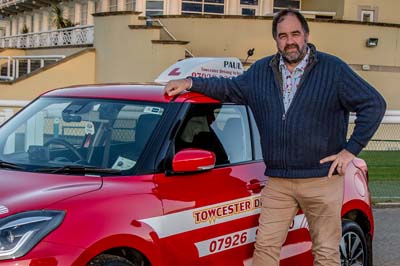 My name is Paul and I have lived in Towcester since 1972. I'm married with 2 step-daughters, and I was educated in Towcester before joining the Army after leaving school.
Since qualifying as an ADI in 2010 I've gained lots of experience with pupils from all walks of life, some with challenging conditions such as dyslexi, dyspraxia and autism to name but a few. No two pupils are the same and I'll always try to deliver training in the best way possible for the particular pupil. 


For training I use a 2020 Suzuki Swift which comes fully equipped with radar assist braking, cruise control, stop/start technolog, lane deviation warnings and reversing camera and sensors. I also have a dashcam fitted front and rear which makes a handy training tool for pupils to recap any events that require discussion.
Past driving experience includes Class 1 HGVs for 20 years,  former DAS motorcycle instructor and advanced qualifications gained from police training while serving in Northern Ireland.
I'm a keen musician and I've played the bass guitar in bands for many years including a spell as a Marshall Amplifier demonstrator. I've been playing since my schooldays and even have performed with Ed on the odd occasion!
Please take the time to look around the site, and I hope to see you in future.